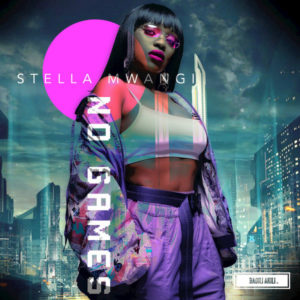 It is a big win for celebrated Kenyan-Norwegian music artiste Stella Mwangi as Samsung is using her song "No Games" in the promotion of their new Galaxy S9 and S9+. She is not however the first rapper they use.  In previous campaigns, the company has used music by international stars like Jay-Z and Lil Wayne.
'No Games' is Stella Mwangi's 2nd single off her 2018 HollyWoodEP Album. The album dubbed #NotYOurOrdinary is set to drop later this year. This opportunity presents itself to Stella Mwangi adding to her Hollywood mainstream production collaborations with music producers, Ad agency executives, and movie directors.
'No Games' was also featured on Hollywood TV Series – Black Lightning. In February 2018 during a private album pre-listening party in L.A, Hollywood music supervisors working on the new 2018 TV series for The CW got hooked to 'No Games' and immediately picked a suitable part for the record to be used for theatrical performance in one of the seasons' premier episodes.
This Hollywood deal happened early this year in February even before Stella Mwangi put out the record for publishing.
Stella's song being used on the Samsung Galaxy S9 and S9+ 'Remix Your Everyday' TVC worldwide means new fan base possibilities in the major house hold settings. This contract is a really big deal with great marketing value. Samsung is the sixth largest brand in the world, and the exposure Stella will get through this advertising campaign is hard to measure.
Original music that's being used in advertisements often contributes to commercial success for the musicians.
Stream or download the record via the links below :-
Click and watch    No Games lyric video:  Stella Mwangi – NO GAMES (Lyric Video) http://bit.ly/2GWDSVF
Click and listen to No Games on Apple Music/iTunes: https://apple.co/2GUKVy5
Click and listen to No Games on Spotify: https://spoti.fi/2H01mFi
EDITORS NOTES: 
After initial few songs at the debut of her career, she finally broke out in 2006 with 'Take It Back' and another record dubbed 'Happy' ft. Kantai. With her debut album 'Living For Music' released in 2007. Her work then being used in films such as American Pie Presents: The Naked Mile and Save the Last Dance 2, and also in TV-series such as CSI: NY and Scrubs. She represented Norway at Eurovision 2011. The same year her hit 'Haba Haba' topped official Norwegian singles charts. She's commutes between Nairobi and Oslo.
The year 2017 saw StellaMwangi's self titled EP become a favorite in the Hollywood TV series and movie production scene featuring on FOX TV's series Rosewood, BET's Being MaryJane, HBO's Insecure created by actress, writer, director, producer, web series creator Issa Rae . The EP features as soundtrack and theatrical score on SONY COLOMBIA'S Movie Rough Night 2017 and STX FILM'S A Bad Moms Christmas 2017. 
Follow Stella Mwangi on social Media 
Stella Mwangi  on Facebook
Stella Mwangi  on Twitter
Stella Mwangi  on Instagram
Stella Mwangi  on Youtube
Contact Stella Mwangi management via 
Email: bookings@badiliakili.com
Tel: (Manager) Tim Adeka +254 722 44 10 44