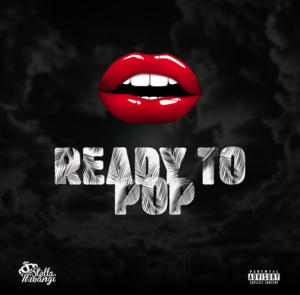 Kenyan-Norwegian highflying artiste, Stella Mwangi, has been working on building her independent label in Norway: Badili Akili Music, and finally releases the first song off her own imprint "Ready To Pop". The single produced by Tom Rodger Rogstad and Kim Hoglund is an authentic hip hop record that will definitely be a treat for the hip hop lovers, while taking Stella Mwangi real fans back to her hard core hip hop roots.
In light of the release, Stella Mwangi sends a message to her fans: "Okay fam, I've been up and about producing dope music all year and I must say this particular release represents my re-birth. Expect fire pon yo head top in 2018! I am coming out with some good heat for my true fans as well as new ones. You have all been so supportive – thank you!"
Though still reminiscent of high energy and Stella's distinct Hip Hop flow that has for years united her fans across the globe, the worldwide release of "Ready To Pop" is not in the category of commercial pop records under the recent Stella Mwangi EP. The EP released for the Hollywood Sync market in 2016/2017 was a game changer having received critical acclaim in Europe. Its songs were synced as official trailer soundtracks for Hollywood Movies like Rough Night (SONY COLOMBIA) and A Bad Moms Christmas (STX Films), TV series like Being Mary Jane on BET, Rosewood on FOX TV and Insecure on HBO TV. Others earned two commercial deals with world-renowned fashion designer Tommy Hilfiger, and theme song for Reebok Classics "Free your style" worldwide campaign; in collaboration with American songstress and fashion icon Teyana Taylor.
Stella Mwangi's 2017 moves elevated her to become one of the most popular African female artistes in Hollywood sync music. Now with "Ready To Pop" Stella Mwangi is onto reclaiming her title as best female rapper with a huge fan base from Africa and Scandinavia. The single is set to kick off a series of Stella's upcoming new releases that will spill over into 2018.
Watch "Ready To Pop" on YouTube:
EDITORS' NOTES:
Stella Mwangi is one of Africa's most unique female artistes in the genres of hip hop/rap, afro pop, reggae, dance and world music. Her blend of Swahili and English in her European songs continues to create a diverse sound while remaining authentic to her African origin and style. Her record label Badili Akili Music is her latest project to be unveiled. Badili Akili Music and Vaa Ki Afrika are among projects outlining Stella Mwangi as a dedicated social entrepreneur. She is also the founder of Vaa Ki Afrika – a sprouting Scandinavian fashion web store selling Kenyan fashion abroad.